:: acceptance testing document
ImPACT has produced a document providing a guide to the acceptance and commissioning testing of CT scanners. It gives information on the tests themselves, the equipment needed, practical hints in performing the testing and gives help on interpreting the results. It also covers the testing of multi-slice scanners, where this differs from single slice scanners.
Although there are a wide range of tests that can be performed during acceptance, the leaflet focuses on the tests that will provide a suitable set of measurements to carry out for a routine diagnostic scanner.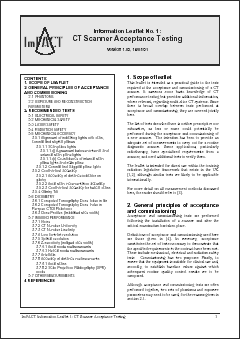 The leaflet can be downloaded free of charge by any user of this site. Please fill in the form below.
information submitted with your request is used to track the number of valid downloads and profile our user base
access to the download is not restricted depending on your responses
please leave ANON as your name if you are unwilling to disclose your real name - but please indicate your profession
Any comments or queries relating to this item, should be submitted using our feedback form
Please contact us if you have any comments about the contents of the leaflet.