:: ct issues in pet / ct document
ImPACT has produced a technology update document about the issues in CT that are relevant to PET / CT scanning.
CT and PET are three dimensional imaging modalities, which show anatomy and function respectively. The introduction of hybrid PET / CT scanners combines the two techniques within a single piece of equipment. PET / CT scanning is generally provided as part of as nuclear medicine service, where there may not be experience of x-ray CT. This leaflet outlines some of the issues related to CT that should b considered when using a PET / CT scanner.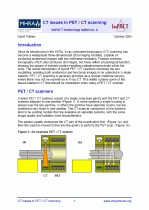 The document can be downloaded free of charge by any user of this site.
We are sorry, but we a currently unable to answer any questions relating to this leaflet or the topic that it covers.
You can access this download by completing the form below and clicking the download document button. Please complete as many details as you can
information submitted with your request is used to track the number of valid downloads and profile our user base
access to the download is not restricted depending on your responses
please leave ANON as your name if you are unwilling to disclose your real name - but please indicate your profession