:: getting to ImPACT
ImPACT are based in the first floor of Knightsbridge Wing, on the Perimeter road of St George's Hospital.
St George's Hospital is in Tooting, South London, and can be reached ten minute's walk from Tooting Broadway tube station. Tooting Broadway is on the Northem Line. Information on how to get to Tooting Broadway can be found at the Transport for London web site.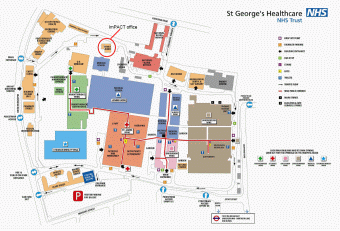 The pdf map of the St George's Hospital site (2.8 MB pdf) shown above can be downloaded here.
In order to view pdf files, Acrobat reader, or similar software is required (free download).
You can also find our location on Google Maps or Windows Live Local.
Finding ImPACT for the first time
If you have not been here before, the simplest way to get to our offices are:
When you arrive at St George's, head to the main entrance in Grosvenor Wing and call us.

If you are using SatNav to find us, you are better to use the co-ordinates
Lat: 51:25:37N (51.427) Lon: 0:10:38W (-0.1771)