:: impact course 2007
The most recent presentation of the ImPACT course "CT Technology, Dose and Performance" took place at RIBA in London on 26th & 27th February 2007. Over 50 delegates attended the two day event: there was a mix of professions - clinicians, engineers, physicists, radiographers - from many backgrounds and from all over the world.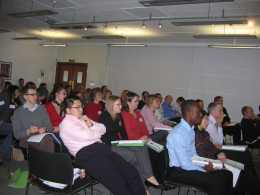 Speakers included members and former members of the ImPACT team: Sue Edyvean, Maria Lewis, Nick Keat, David Platten and James Weston; as well as Matthew Benbow from the Royal Bournemouth Hospital, who gave an insight into the impact of multi-slice scanning in clinical practice; and Jonathan Sykes, from the Cookridge Hospital in Leeds, who talked about the uses of CT in radiotherapy centres.
Web versions of the presentation slides can now be accessed here.
There were also sociable and interactive sessions: everyone did well in the fun quiz , and many enjoyed an evening meal and a chance to discuss the technical aspects of CT scanning in a more relaxed environment.
For those who attended, we will be publishing here useful links and other supporting documents, as they become available.