:: rsna 2000 part 1: introduction and hardware
Introduction
The past two years have been exciting ones for CT, with the development of multi-slice scanning technology and applications. The continued advances displayed this year at the annual RSNA exhibition and scientific meeting in Chicago from Nov 26 to Dec 1 indicated that the resurgence of CT is set to continue for a number of years.
In the UK, government 'Capital Purchase Allocation' funding for the replacement of all non-helical CT scanners in England was announced in January 2000. The purchase of at least 150 new scanners with this money will help to bring CT scanning equipment up to date, with the rapid integration of the new two and four slice scanners. The government's stated priorities of cardiac and cancer care are being addressed by developments in cardiac angiography and calcification scoring, as well as lung and colon cancer screening, all of which were important issues in CT this year at RSNA.
On the hardware side, new detector technology from Marconi and Siemens means that 16 slice scanning will be available in the future. Philips have brought the number of multi-slice scanner manufacturers up to five, with an upgrade to their Secura scanner that will be available from next year. GE and Toshiba are also continuing work on their scanners, with 8 slice scanning from GE, which should be available in 2001, and new additions to Toshiba's range. There were a number of new single slice scanners that have been introduced since the last RSNA meeting, and Marconi showed its new large bore ACQSIM therapy simulation scanner. In another development, CT and PET or SPECT scanners have been combined by GE, Siemens and Philips/ADAC to provide multi-modality imaging equipment that generate both functional and anatomical information.
CT scanning applications were also to the fore, with development continuing in a number of areas. Cardiac imaging is proving to be a field of great activity, with the increased spatial and temporal resolution of multi-slice scanners being used to capture high quality images that are capable of greatly reducing the blurring introduced by movement of the heart.
CT Scanner Developments
Multi-slice: more, thinner slices
Marconi and Siemens used RSNA 2000 as an opportunity to showcase their scanners of the future. Both manufacturers revealed some details about systems that they say will be available in approximately 18 months time. The new systems will use the existing scanner gantries and tubes, but the main changes will be in the detectors. The detectors in their existing multi-slice scanners are identical, and although some details were not being fully revealed, it is thought that the new detectors are also being developed in tandem.
The new systems are both capable of acquiring sixteen slices simultaneously, with a detector matrix that is thought to consist of twenty-four rows, measuring 24 mm at the isocentre. This matrix could acquire 16 x 0.75 or 1.5 mm slices (these could also be combined to 8 x 3 mm or 4 x 6 mm slices).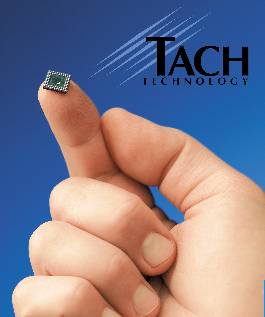 Marconi's new TACH signal processor ASIC (Courtesy of Marconi Medical Systems)
Marconi calls this the Infinite Detector, and drew attention to their proprietary "TACH" signal-processing chip that is mounted on the detector. This is capable of a high data throughput of 1 Gbit per second, and the close level of integration is claimed to keep system electronic noise to a minimum.
Siemens have called their future system X32, as it will be capable of acquiring sixteen slices in 0.5 seconds, or 32 slices per second.
GE revealed that they have received FDA clearance for an eight-slice version of their existing LightSpeed detector. It is claimed that it will be available for delivery in approximately 1 year.
Toshiba, too, indicated that they are continuing to develop their existing multi-slice detector, although they did not talk specifically about numbers of slices or delivery dates. In the scientific sessions they showed preliminary results of investigations using a 256 slice system. Each detector is 0.5 mm, so the coverage is 12.8 cm in one rotation.
Current multi-slice scanners are capable of covering the entire body in one scan run, but compromises of pitch and/or slice thickness have to be made. The advantages of the new detectors will be increased volumes for isotropic or near-isotropic CT scanning and further increases in the speed of coverage. This is particularly important in cardiac and lung imaging, where patients' breath hold period can limit slice thickness selection.
Although z-axis detector length of these systems has not increased greatly, the increased number of slices involved in these systems is thought to imply increased problems with cone beam artefacts in reconstructed images. In the scientific sessions at RSNA, a variety of solutions to these problems were presented, although the increased computational requirements of these techniques, combined with the increased data flow produced by eight and sixteen slice systems will prove to be very demanding.
Philips announce new multi-slice system
Philips announced that they were joining the multi-slice arena, with the development of TrueView for their existing CT Secura scanner. TrueView encompasses both the detector and image reconstruction technology.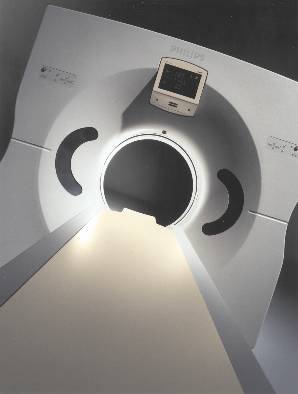 Philips' Secura is now available with TrueView multi-slice detectors (Courtesy of Philips Medical Systems)
The first implementation of this technology will be installed at a clinical site in early 2001, with full product availability likely to be approximately one year away.
The new multi-slice detector has 16 rows of 1.25 mm detectors, and can acquire four sets of scan data simultaneously, offering 4 x 1.25, 4 x 2.5, 4 x 3.75 and 4 x 5 mm. Philips claim that the reconstruction of TrueView images is improved by their use of patented cone beam algorithms, rather than the parallel beam techniques employed by the other manufacturers. They also featured their beam positioning system, known as BeamRight, that helps to correct for movement of the scanner's focal spot, reducing the z-width of the x-ray beam.
Other developments in CT scanner hardware
GE showed their LightSpeed Plus scanner at RSNA this year. It is a development of their existing LightSpeed scanner, and has what they call variable speed scanning, with gantry rotation times of 0.5 to 1.0 seconds in 0.1 second increments. This is particularly useful for cardiac scanning, to attempt to provide optimised scan times based upon the patient's heart rate. The LightSpeed Plus' gantry is smaller in size than the LightSpeed.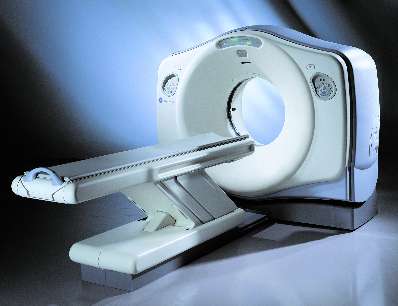 GE's LightSpeed Plus Scanner (Courtesy of GE Medical Systems)
GE also offer sub-millimetre scanning, with nominal slice widths of 2 x 0.625 which will be available soon to be available on all LightSpeed systems. Upgrades will be performed on all existing LightSpeed systems to give them this facility. Initially, this will only be available for axial scanning, with helical capability coming later in 2001.
Also new from GE is the NX/i scanner, a two-slice scanner capable of acquiring 2 x 1 to 2 x 10 mm slices. 2 x 0.5 mm slices will be available next year.
Toshiba announced a new version of their Asteion multi-slice scanner, the Asteion dual. This has a 20mm adaptation of the 32mm detector used in the Asteion and Aquilion four slice scanners, and offers 2 x 0.5 to 2 x 10 mm scanning. They also revealed the Asteion Multi 36, similar to the current Asteion Multi, but with a smaller 36 kW generator, as well as the Asteion MS60 (works in progress) with a 60 kW generator and 6.5 MHU tube.
Marconi unveiled the MX8000 dual, a two-slice version of their existing Mx8000 four slice scanner.
Marconi was also showing the ACQSIM oncology CT scanner, which has a large 85 cm gantry aperture to allow for a wider range of patient positions than is allowed by conventional scanners, which typically have a 70 cm aperture. It also features CT-SIM, a virtual radiotherapy simulator package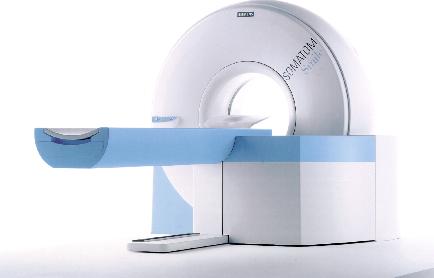 The Siemens Somatom Smile has a compact 'plug and play' design (courtesy Siemens Medical Systems)
Siemens' Emotion scanner can now be upgraded to dual slice scanning, with the Duo option that has a 10 mm detector, offering up to 2 x 5 mm scanning. They also showed their Esprit and Smile scanners. The Esprit is at the lower end of their SlimLine range, and the Smile is a basic, low cost spiral scanner.